Photos Gallery
Click the link below to view View Photos from…
Please enjoy the photos from Grandview Peaks, South Mountain Peaks and Broad River Highlands but keep in mind that photos do not do the property or area justice you have to see it in person! When can you come?
The Video below shows The local area, Asheville, The Blue Ridge Parkway and much more!
---
At CarolinaLand.Com, we feel a personal connection to the Western North Carolina land, mountain homes and communities we help design. Certainly we take what we do very seriously, and that's why we've been doing it for so long, even getting on the ground, laying out the roads and setting up the home lots based on the view we know we'd want to see if we were moving in.
For many years now we have been helping couples and families find their own peaceful vacation spot or that perfect retirement retreat. For us it isn't about setting up & selling a bunch of properties, and moving on to the next place to develop. This is our home, our community. We live here too, and take pride in helping our property owners build the mountain home of their dreams, and we've got the track record and testimonials to prove it.
So won't you come visit – step inside and let me show you around the neighborhood? Your to-do list can wait and right now is one of the all time best times to invest in Real Estate! Prices are low and so are interest rates, But! that's changing fast.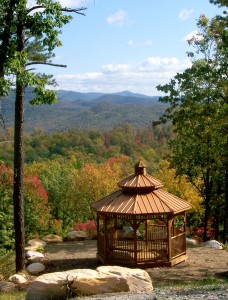 We have two local banks lined up and eager to help you with your financing needs. Call Ken at 828-429-4004 for all the details.
Visit CarolinaLand.Com for lots of great info regarding NC Mountain Real Estate, NC Land, NC Waterfront Land and all thing Western North Carolina.