Western North Carolina Mountain Real Estate
Log Homes, Mountain & Mountain View Home Sites For Sale!!!
---
Featured properties are in Hearthstone Ridge, Grandview Peaks, Ole Plantation, South Mountain Peaks, The Summit and Yellowtop Mountain Estates. All with paved roads, underground utilities, and views second to none. Offering parcels of land in their natural state, from 1 to 35 acres. Many different styles of log cabins are offered from our local builders. Pick your home site or lot then choose your cabin style and floor plan to build.
For details fill out the contact form below or for faster service Call (828) 429-4004.
To see more details regarding these properties click links or photos below

 

Custom Log Cabin Shell 1,217 Sq. Ft. Makes 2 or 3 BR, Loft, 2 BR, Covered Porch. On 1.48 acres Under Contract (more)

Click for Photos and details
(more)
---
To Receive Your FREE Color Brochure and DVD by Regular Mail With: Plat Maps, Price List, Photos and relocation details – Please Fill Out The Form Below
For Question or to set up a showing appointment please call Ken 828-429-4004
North Carolina Real Estate is still the best investment you can make! And there has never been a better time to buy than right now. Despite slumps in other markets, North Carolina Real Estate values are holding strong and property sales are rising while demand grows! interest rates are at historic lows, but not for long – Take action today and come see our cabins for sale. Make your mountain dreams come true- Call Ken today Ph. 828-429-4004
CarolinaLand.Com is your complete resource for Western North Carolina Real Estate, North Carolina Mountain View Land and North Carolina Log Home sales, also we occasionally feature easy to finish log cabin shells on land or finished move in ready log cabin homes for sale. Call Ken for details!
On this web site you will find Log Cabins offered by our local builders, Log Cabin Shells and finished Log Homes, plus North Carolina Mountain and Waterfront Real Estate priced to sell now. Don't take my word for it… call today and schedule a private and personal showing appointment.
Currently I am featuring: Easy To Finish Log Cabin Shells, Finished Log Homes, Mountain and Waterfront Home Sites all located in Western North Carolina. Properties include Hearthstone Ridge, South Mountain Peaks, Ole Plantation, Grandview Peaks, Yellowtop Mountain Estates and The Summit.
Climate:

Average annual temperature, 59.9 F; average rainfall, 49.91 inches. Rainfall is concentrated in Spring and Fall. Average humidity, approximately 65%. Located in the Isothermal Belt, there are 200 frost-free days in the growing season. Average snowfall, 2.74 inches.
Lots and Home-Sites:
Carolina Land working with local developers, offer 1-to-35 acre mountain home sites and lots, (average lot size is 2 to 5 acres.)
Many of these properties have Awesome long-range mountain views, Streams, Creeks and are affordable! Priced from $15,900 – $169,900.
New easy to finish log cabin shells begin at just $99,900 and include 1 to 2 acres. Our new custom built-finished log homes are ready to be built on the lot you choose in Hearthstone Ridge, Ole Plantation, Grandview Peaks, South Mountain Peaks, The Summit and Yellowtop Mountain Estates. Once you purchase your lot/home site construction can be completed in 6 to 9 months on averages. To speak with the builder/contractor consultant call Ken to be referred. 828-429-4004
Utilities:
All of our Western North Carolina Mountain Real Estate features underground utilities (electric, phone), two-lane (16′ to 18′ wide) easy access paved roads and lots of privacy. Our properties also boast some of the biggest and best long range mountain views, streams and/or creeks, and all of our NC Land for sale is guaranteed to be build-able in accordance with all North Carolina standards. Keep in mind that the city amenities are only 10 minutes away.
We are now featuring New North Carolina Lake Front Land and Home Sites in Grandview Peaks.
"Mountain Living with City Convenience"
Our featured properties are located in the Western North Carolina Mountains, Northern Rutherford and Southern McDowell Counties. Just a short drive east of Asheville and close to Lake James, Lake Lure, and Chimney Rock. Other nearby towns include Hendersonville, Black Mountain, Marion, Boone, Blowing Rock, Banner Elk, Morganton, Hickory, Forest City, Rutherfordton, Bostic and Boiling Springs .
For detail directions or to schedule a private showing- call me direct at (828) 429 4004
Because we are so close to all of North Carolina's best recreation, your family will enjoy awesome golfing, hiking, trout fishing, hunting, swimming, horseback riding, canoeing, tubing, white water rafting, snow and water skiing and much more! This area is also known for its year long mild climate with four distinct seasons.
Don't let this amazing opportunity pass you by! Call me today and set up your personal property tour!
Ken Williams – Ph. (828) 429.4004 – CarolinaLand
All property is shown by advanced appointment only!
Call a few days before you want to visit.
No drive-bys please, Thank You.
Summary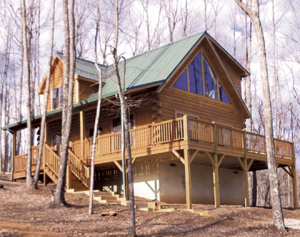 Author Rating
Aggregate Rating
2.5 based on 14 votes
Brand Name
CarolinLand.Com
Product Name
The Lake Lure Log Home Model
Price

USD Starting at 145,000
Product Availability
Pre-Order Only